'Pitching expert' Lee Kang-Cheol misses a prospect… '110th-ranked miracle' 'Cuevas-class curve' not seen in PO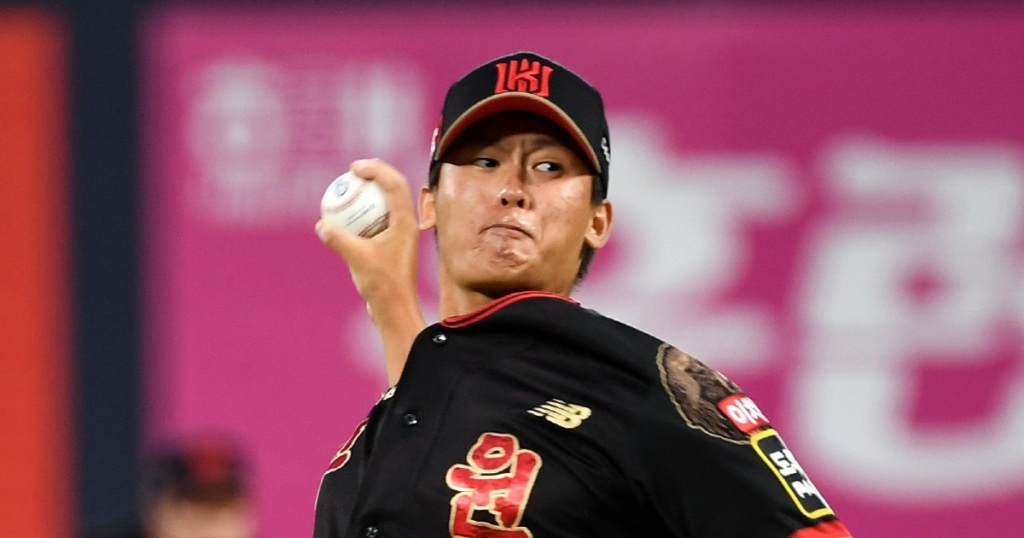 There was a prospect in the KT Wiz's bullpen who made a difference at the end of the season. His name is Kang Geon (19). The pitcher, who graduated from Jangang High School and was selected with the 110th pick in the 11th round of this year's rookie draft, has made a dramatic entrance into the professional ranks.
After playing as a developmental player, he registered as a player on October 3 and made it to the first team, refreshing KT manager Lee Kang-cheol with his fearless pitching.
He has a fastball in the mid-140s and a great curveball. Usually, curveballs in the pros have a rotation rate of 2400 to 2500 revolutions per minute (rpm), but Kang's curve exceeds 2700 rpm. Lee praised him, saying, "He throws a Cuevas-level curveball." I didn't expect much from him.
I didn't expect much from this pitcher. In 34 games at the second level, he had a mediocre 1-1 record with a 5.10 ERA.
His late-season form earned him a promotion to the first team in October, and he surprisingly stood out by not running away and pitching aggressively. After pitching one inning of one-hit, 카지노사이트넷 one-strikeout ball against KIA on the 4th, Kang-geon pitched one inning of one-hit, two-strikeout ball against Samsung Electronics on the 6th.
He took the mound in the top of the seventh inning against Hanwha with a 17-0 lead and pitched three innings into the ninth, allowing one hit and striking out three to earn his first career save. In KT's final game of the season against Doosan in Suwon on April 10, he was the second pitcher, not the last, behind starter Choi Joo-hyun. After giving up a walk to Yang Seok-hwan in the top of the third inning, Kang came out in the top of the fourth and gave up a leadoff double to Kim Jae-hwan, then a sacrifice bunt and a strikeout to Park Joon-young with runners on second and third. He then gave up back-to-back singles to Heo Kyung-min and Jeong Soo-bin to load the bases. In 1⅔ innings, he gave up one run on two hits with three walks and two strikeouts.
The 110th overall pick and little-expected pitcher made the first team in his first year, and after being called up, appeared in four games with no wins, one save, and a 1.35 ERA. In 6⅔ innings pitched, he allowed three walks and struck out eight. His strikeout-to-walk ratio was 1.06 and his walks-per-inning ratio was 1.05.
I thought I had found a good bullpen at the end of the season, but we won't see it in the postseason because of the roster rules. According to the KBO rules, a player must be registered with the club as of July 31 to be eligible to play in the postseason, which means that Kang-geon was a developmental player and was registered as a regular player on October 3, so he can't play in the postseason.
"Kang-geon can't play in the postseason because of the registered player rule," Lee said, "I wanted him to pitch in the big games, but I couldn't do it. It's too bad."
For now, Kang's "Cinderella story" has stopped at four games in the regular season. If he continues to improve in the offseason and spring training, he could be in the first team from the opening game next season.