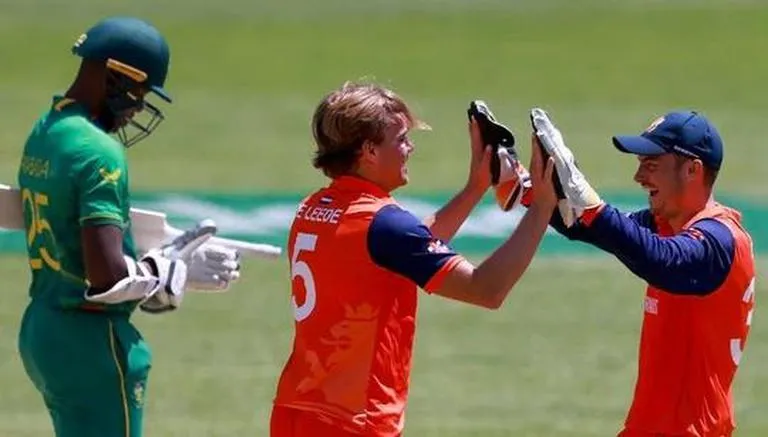 India advances to the semi-finals thanks to South Africa's 13-run loss against Netherlands in the T20 World Cup; Pakistan then defeats Bangladesh by five wickets to claim the second qualifying spot from Group 2; The Proteas are still without their first World Cup victory.
With an excellent 13-run victory over the Proteas in Adelaide on Sunday, the Netherlands pulled off one of the biggest upsets in the history of the ICC Men's T20 World Cup and eliminated South Africa from semi-final contention at the competition.
The Netherlands had many heroes on their team as they successfully held onto their respectable total of 158/4 by limiting the Proteas to just 145/8 in response.
The Dutch team defeated the Proteas for the first time ever in any format. Due to South Africa's subpar batting effort, they were formally eliminated from the competition after their net run rate lagged behind Pakistan.
Seven of South Africa's top eight scorers reached double figures, but none of them were able to continue against a methodical Dutch onslaught, and Temba Bavuma's team was eliminated.
Batting first, Netherlands score 158 runs, thanks in large part to Colin Ackermann's excellent effort. The seasoned player scored 41 runs off 26 balls, an undefeated effort that featured three fours and two sixes. A important innings of 37 runs off 30 balls, including seven boundaries, was also played by opener Stephan Myburgh. Two wickets were taken by Keshav Maharaj for South Africa. The South African batters made a strong start but were unable to turn it into big runs.
The Netherlands were left to celebrate winning the Super 12s for the second time in a row after defeating the Proteas and Zimbabwe, respectively, after losing to Bangladesh, India, and Pakistan to start the round.
The defeat only adds to South Africa's 'chokers' tag at World Cups with Bavuma adding: "I think it will always be there until we find ourselves in a situation where we get to a final and we come out on the right side of that result.
"Everything was in our hands as a team. We had confidence and belief and the form behind us but we just couldn't do the business. We had opportunities and we just didn't take them."
"We were never really in this game here, to be fair. On paper, yes we should have won the game but the game's not played on paper, it's actually played out there in the middle."
The Netherlands' heroics will also inspire India, since Rohit Sharma's team will automatically advance to the final four as a result of the surprise victory.